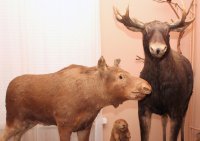 There is a permanently operating exposition "Fauna of the Gomel Region" in the North Wing of the Palace of the Rumyantsevs and the Paskeviches. This exposition is especially popular among young visitors of the museum. The exposition portrays stuffed animals dwelling in the Gomel Region. This collection numbers about 171 exhibits.
The exposition consists of the two halls. The first hall has the riverine animals, and the second one shows the foresters. The exposition starts with a glass case showing the Red Book of the Republic of Belarus, which keeps record of rare and endangered species of plants and animals in the territory of the country, and it states the measures of their protection. The rare species of birds are presented by the stuffed birds: fish hawk, golden bee-eater, big bittern, big egret.
The hall also exhibits seagulls (a silver seagull, a lake seagull, a river tarrock and a small tarrock (recorded in the Red Book)), the inhabitants of the water bodies, which are food for the birds, waders (a big godwit and a duck hawk, a wader owl, a grey shrike, a willow grouse), herons (grey and red), swimming birds, including a pintail and a red-necked grebe recorded in the Red Book. There are also the animals, whose life is tightly connected to water: a river beaver, a swamp beaver, an American mink. There are butterflies and bugs found in gardens, forests, meadows and glades, too.
The second hall (the foresters' hall) shows the biological groups of the animals: a deer, wolves, a brown bear (recorded in the Red Book), a common fox, a brown hare, a lynx (it is one of the symbols of Gomel, and it is placed on its arms; this animal is in the Red Book), a badger, a raccoon dog, squirrels, which not only widely populate the forest, but the Gomel Park too, a wild boar, an elk. Two glass cases show the forester birds: a woodpecker, a crossbill (the only bird in Belarus to hatch nestlings in wintertime), a cuckoo, a black grouse, a woodcock, a goldcrest (a European hummingbird is 9-10 cm long, and it weights 5-7 grams). On top of the glass cases there are big stuffed birds: a plumiped buzzard, a goshawk, a golden eagle.
A mini-exhibition "Exotic reptiles" appeared in the 1st hall of the exposition in 2008. The exhibition turned into a live animal corner: there are lizards, snakes and a crocodile.