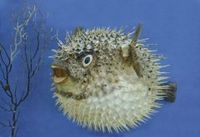 One of the expositions of the museum of the "Gomel Palace & Park Ensemble" State Historical Cultural Institution, which is very interesting to the visitors of all ages, is the exposition titled "The Mysterious Sea Fantasies". One can study the sea creatures there from the collection bought from the citizen of Gomel (Mrs. Lidia Fedorovna Malakhova) by the museum in 1998. The lady devoted a lot of time to collect and to study the lives of the sea and ocean inhabitants in order to bring a piece of the hidden world to the people living far from the sea.
One cannot but be surprised when looking at the sophisticated shapes of the shells.
An elegant form of the shells is hard to describe. Each shall has its own shape and coloring. For example, the shells of the snails from the cypraera family, which are characterized by the affluence of picture and color. The "Classic #1" - that's how they were called by the conchologists for their beauty.
Art, folklore and history have depicted both wonderful and very ordinary shells. People used shells as money. The shells were used to make decorations, household items, musical instruments, building materials.
Many legends are about shells. According to the legend, Venus was born in the shell of a giant scallop from sea foam. Shell of the "St. Jacob's" scallop served as a symbol, a differential sign to the pilgrims. Corals are interesting: they can compete with the most exotic flowers. The most beautiful pieces of the collection are the sea fans or "the fan of Venus", black, red and blue corals. One can see various crustaceous creatures at the exhibition: bear-crabs, sea cockroaches, crabs, crawfish, lobsters. One can find the following fish interesting: horsefish, shockfish, sharks, flat-iron-fish, cowfish, flying fish.
Our exposition surprises and makes happy not only the citizens of Gomel, but the tourists from various countries of the world. Their testimonials are expressive. The visitors say the words of thanks, of admiration and they give their kind wishes to the employees of the museum and to the creator of the collection. These are some of the references written by the visitors:
"Thank you very much for the most interesting, informative exhibition. This beauty exhibited in the museum halls is interesting both to kids and adults. We will remember the sea exhibits for a long time. When you visit it you realize how diverse the world is, and you understand that we must love and protect this world", - wrote Mrs. S.P. Gluzdakova and kids (Krivoy Rog, Ukraine).
"If you have made nothing else in your entire life, but this collection only, you have not lived your life for nothing. You presented the happiness of seeing the beautiful creatures of nature", - wrote Mrs. L.S. Upasevich, teacher of the Technical College #38 (Minsk, Belarus).
Welcome to the exotic exposition. You will certainly get lots of positive emotions when visiting it.