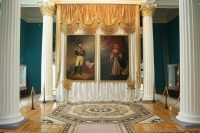 "The Rumyantsevs' Hall" (ground floor) is devoted to the representatives of the noble family of the Rumyantsevs: Peter Alexandrovich, Field Marshal, his sons Nikolai and Sergei who owned the Gomel Estate from 1775 until 1834. The visitors can see the bronze busts of the Rumyantsevs, pieces of art by the famous sculptors and artists of the past, reproductions of the pictures by D.G. Levitski and D. Dow made by Gomel artists, a bronze statue of the Goddess of Peace, clocks, weapons (18
th
-19
th
century), illustrations, copies of valuable documents, etc.
"The Paskeviches & Gomel Hall" (ground floor) depicts the subject of the palace reconstruction, which took place in mid-2nd half of the 19th century. The exposition portrays personal items and documents of the Paskeviches, photo pictures of the palace, of the park, of the palace rooms reproducing the then-ruling atmosphere of refinement and luxury, the inventory of the palace dated 1910, the unique book of honorable visitors signed by the Russian emperors, etc.
"The Audience Hall" (ground floor) is a reconstructed interior of one of the palace rooms. This hall exhibits a marble sculpture, an ancient furniture set and a fireplace set, pictures, porcelain statuettes of the 18th-19th centuries (?), a bronze table with the miniature portraits of St. Louis XVI and court ladies, etc.
"The Field-Marshal Hall" (ground floor) is devoted to I.F. Paskevich, General Field-Marshal, the warrior of the 1812 Patriotic War, the hero of the Russian-Persian and Russian-Turkish wars of the 1st half of the 19th century, whose parade portrait as well as the portrait of his wife Elisabeth Alexeevna decorate the hall. The topic of the hall is described by the commendation letters on assigning "earl" and "prince" title to I.F. Paskevich, honorary weapons, gifts of the emperor, personal things and items of military munition of the field-marshal, battle-field paintings by famous artists of the 19th century.
"The Smoking Room" (ground floor). The pre-revolution name of the hall is kept (named as before 1917). This hall exhibits the tobacco pipes and oriental items from the collection of the Paskeviches: small pieces of plastic art (Buddhist gods), household utensils decorated by engraving, color enamels, silvering, painting (flasks, drinking bowls, trays, sanders, etc.). This hall also exhibits the gifts of the embassies of India and China in the Republic of Belarus kindly presented to the museum.
"The Study" (1st floor) is an example of interior design of the study room in a palace. The exposition has paintings dated 1st half of the 19th century. There are clocks, candelabrums, furniture sets of the 19th - early 20th century. There are hunting rifles made by the famous European masters by the order of the Paskeviches, and duel pistols (made by the Russian master Mikhailov), European and Eastern cold arms. There are photo pictures and copies of the documents on economic and charitable activities of Fiodor Ivanovich and Irina Ivanovna, the Paskeviches.
"The Library" (2nd floor). It is reconstruction of the hall, which used to be the library of the palace landlords. It used to keep books on history, philosophy, natural science, works by Russian and foreign writers and poets, many of those in original languages. The exposition depicts pre-revolutionary (before 1917) editions of the books from the museum collection.
"The Exhibition Hall" (3rd floor). The exhibitions of Gomel artists and of the masters of visual arts of the country, exhibitions from the holdings of the museum take place there.