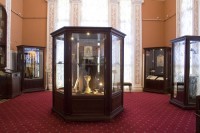 The Palace of the Paskevich Princes possessed a big collection of the objects of religious worship along with secular paintings and decorative and applied arts. Their biggest number was accumulated in the building of the House Church established in the North Risalit of the Palace in 1857-1858 in the name of St. Elisabeth and St. John the Theologian, who were the patrons of I.F. Paskevich and E.F. Paskevich, who died in 1856.
The icons of the exposition were made in different techniques: oil painting ("St. Alexander Nevski"), tempera painting ("Virgin Mary and Jesus Christ the Almighty" from the deesis tier). One of the most valuable relics of the Paskeviches is the icon "Our Lady of Smolensk" made in oil painting technique. The framework of the "St. Alexander Nevski" icon is made of silver in the technique of hand-made engraving.
One of the masterpieces kept in our museum and shown in the exposition is the "Mother of God. Eleusa". It was made at the Faberge Factory (silver work) and at the Frolov mosaic workshop in St. Petersburg in 1887-1910. That icon used to be at the burial chapel of the Paskevich Princes. The icons made in bone carving technique such as "Epiphany" and "The Repentant Magdalen", which used to be in the House Church of the Paskevich Princes, are of special interest.
In the exposition one can see the famous Chionkovski treasure of the objects of religious worship, the altar Gospels in rich framework.