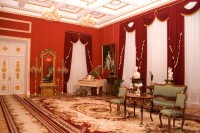 In the mid-19th century the Red Sitting Room was a portrait room and a musical salon. There was an organ, and a grand piano alongside with twenty portraits. Later the Red Sitting Room transformed into the room of Irina Ivanovna Paskevich, Princess. The grand piano and the organ were moved out. The room was divided into cozy corners where one could do various things: reading, embroidering, gaming and just resting. The sofas and the soft chairs, the lampshades and mahogany furniture: everything there stated that the main criteria of its positioning was comfort. The walls would carry big parade portraits of the Russian Tsars and of the family members of the Vorontsov-Dashkovs as well as the watercolors and engravings. There were the clocks of various forms and mechanisms: some of them still exist and stay in the museum exposition. The owners of the palace liked the clocks very much: multi-voiced chimes animated the rooms.
Today despite the fact that it is only a museum exposition the Red Sitting Room tries to re-establish the atmosphere of the sitting rooms of the noble estates of the late 19th - early 20th century. It exhibits the portraits of the Russian emperors, true items, paintings and sculptures, clocks and furniture sets from the Paskeviches' collection.
The visitors attract their attention to the portrait of Countess E.P. Rostopchina, poetess, by an obscure painter, the painting "A lady with a book" painted by an unknown artist, the painting name "The Hungarian deputation presents the diploma of the Honorary Citizen of Pest City to I.F. Paskevich" by I. Ettinger, the sculpture called "The Rape of the Sabine Women" made of rare Gohara marble in the 19th century according to the antique story, original mantel clocks including the console clock of the 18th century in Rococo style, a clock with 2 figures of women, a French mantel clock of mythological plot portraying 2 goddesses: Venus and Galatea.
In the Red Sitting Room one can also see the upper part of the chest of drawers from the boudoir furniture set, which was presented to I.I. Paskevich and to F.I. Paskevich on their wedding day, a 19th century mahogany china cabinet decorated with carving, which houses the 19th-early 20th century porcelain (figures made by the famous factories in Germany and Russia), a stand-alone timber mirror with a console made in the 2nd half of the 19th century (Germany), which is decorated by marble, carving, molding and gilding.