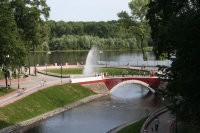 The Gomel Palace & Park Ensemble is unique: it comprises historical-cultural and nature conservation factors. All territory of the historical park is an archeology monument. It has cultural remains of various epochs, from the upper Paleolith until the 18
th
century. At that the space between the ravines named the "Kiev Slope" and "Gomejuk" (currently known as the "Swan Pond"), where the old settlement, circuitous town and trading quarters of the ancient Russian Gomij were located. It is a heart of the city today.
The park of Gomel was established in the late 1830s by the design project of Adam Idzikovski, Polish architect. The riverbed of the ancient river called "Gomijuk" (or Gomejuk), which used to flow into the Sozh River, transformed into the Swan Pond. The park of Gomel is one of the best examples of park design of its time due to balanced combination of relief, water bodies, greenery, architecture elements in one ensemble as well as artistic completeness in solution of the complex space-composition tasks.
One of the versions says the river of Gomijuk gave name to the first settlement in that place: "Gomij". Currently this ancient river is a nice "swan pond" or a "swan lake" as it is called by the Gomel inhabitants. It is one of the most favorite rest locations for the citizens and visitors of the city.
The Swan Pond was reconstructed in 2009. Now it has new park elements: floating fountains, a water cascade, viewing points, a pavilion, an alpine garden. This place makes the visit to the Gomel Palace & Park Ensemble to be even more fascinating and memorable.
---
Go back