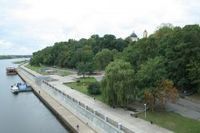 Thanks to the Rumyantsevs and the Paskeviches, outstanding statesmen and military commanders of the Russian Empire, a unique nature-architecture ensemble grew on the high picturesque bank of the Sozh River, right in the historical center of Gomel. It decorates the levee of the Sozh River by its gorgeous view, and it is the most beautiful and favorite resting place not only for the inhabitants of Gomel, but for the city visitors, too.
The Gomel Palace & Park Ensemble is unique: it comprises historical-cultural and nature conservation factors. Thanks to many centuries of rich city history and of the place of its birth, which is the Gomel Palace & Park Ensemble, all territory of the Sozh levee is the monument of archeology, which carries cultural remains from various epochs, from upper Paleolith until the 18th century. At that the space between the ravines named the "Kiev slope" and "Gomejuk" ("The Swan Pond"), where the old settlement, circuitous town and trading quarters of the ancient Russian Gomij were located. It is a true heart of the city today. The territory of the current embankment used to be the lower eastern and the south-eastern city limits of the historical Gomij.
Currently the levee of the Sozh is under construction as well as other sites of the Gomel Palace & Park Ensemble. The target of this reconstruction is to make visits to the Gomel Palace & Park Ensemble to be the most cognitive, fascinating and unforgettable to the inhabitants of the city and to the city visitors.
---
Go back