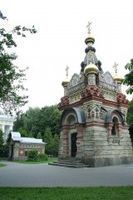 One of the architectural monuments of the palace & park ensemble is the Burial Vault Chapel of the Paskevich Princes. It is a religious building consisting of two parts: a chapel built above the ground, and a burial vault built under the ground as a crypt for burring the dead (it has a little entrance above the ground level).
These buildings were erected at the time of F.I. Paskevich, son of I.F. Paskevich, General Field Marshal, in 1870-1889. The designer of the project was E.I. Chervinksi, Professor of Architecture from Moscow. S.I. Sadikov, artist, was responsible for artistic and decorative work.
The Burial Vault Chapel is the example of the so called new Russian architecture style: its elements are fancifully shaped ceramic columns, sculptural corbel arches, rosaces, capping belts, gold-plated domes and colored ceramics. Multicolor majolica tiles with vegetable frets give special brilliance to the facades.
The walls and the domes of the underground crypt of the vault are decorated with the sledged glazed stones, and the headwall is decorated with a mosaic panel and a marble fretwork.
Eight representatives of the Paskevich family including I.F. Paskevich, General Field Marshal, his wife E.A. Paskevich (her maiden name was Griboedova), the parents of the Field Marshal, his two daughters, his son and his grandniece were buried in the Burial Vault.
Since April 13, 2016, after the completion of the next stage of restoration work, the tomb of Princes Paskevich was opened for public.

Since November 1, 2017, the Burial Vault Chapel of the Paskevich Princes will work in the following mode:
Monday - Friday only for visitors on organized requests - please contact: (0232) 75 89 11, 75 80 93, +375 29 174 19 11.
Saturday, Sunday and public holidays - opened from 10.00 to 18.00.
---
Go back